E-MAIL DELIVERY
24 시간 실시간으로 이메일을 통해서 소프트웨어의 다운로드 링크와 라이센스 코드를 전자 배송 해드립니다.
TECHNICAL SUPPORT
소프트웨어에 대해 궁금하실 때는 언제든지 친절하게 상담해드립니다.
SOFRWARE RETURNS
소프트웨어의 전자 배송으로, 이미 라이센스 코드가 발급되고 나면, 회수가 불가능하여, 전자 배송 후 반품이나 환불이 일체 되지 않습니다.
※ 본 상품은 실시간 이메일 배송되는 제품으로 30 분이내에 받아보실 수 있습니다. 

The ultimate Sample-library for Ethnic Instruments from all over the World
ETHNO WORLD 6 Instruments is the summit of a library that has continuously been growing and improving for over 16 years. In this sixth edition, numerous new instruments with a volume of several gigabytes have been added to the library.
Award-winning film composer Marcel Barsotti (e. g. Pope Joan, The Miracle of Bern) has gathered a gigantic selection of instruments from all over the word from widely varying cultures.
ETHNO WORLD 6 Instruments now consists of 264 instruments, with roughly 620 patches, 10 construction sets and 5 shaker sets. For the most authentic sound, the instruments were recorded with different play techniques that can easily and precisely be accessed from the patches via key-switches. The library consists of 24.7 gigabytes (uncompressed) of sample data and 23,559 samples. All instruments come in 24 bit and 44.1 kHz.
Over 70 musicians from all over world were involved in the recording process, conducted by music-producer Andreas Hofner. The recordings took place in different local studios with the use of first-class gear such as microphones by Neumann and Brauner, SPL preamplifiers and converters by RME.
ETHNO WORLD 6 Instruments comprises an incredible spectrum of instruments from the most diverse regions of Asia, Africa, Europe, North- and South-America. Here, you will find the perfect instruments for folkloric, ethnic as well as for modern music.
Library size ~ 15 GB (using Kontakt´s lossless compression)
Kontakt / Kontakt Player 5.6 or newer required!
For a detailed listing of all instruments and please go to
 

"More Info".
INSTRUMENTS
The library contains an extensive selection of stringed, plucked and bowed instruments, as well as the most different woodwinds including numerous flutes and, of course, a large selection of drums and percussion.
Alongside film-score-proven taikos and big ethnic tom drums, there are hundreds of inspiring loops and even an entire "Gongs, Bells & Metal Type Instruments" category - ranging from the large big feng gong to delicately sparkling wind chimes. New in ETHNO WORLD 6 Instruments are some unique sounds such as the two meter spanning gong by Paiste, several new percussion-instruments and a waterphone.
Almost all sections of the predecessor have been expanded once again. In addition, a couple of instruments of ETHNO WORLD 5 have been re-recorded. Among them is a new mandolin and a great sounding banjo, programmed with countless articulations and licks by one of Germany's best banjo-players, Rüdiger Helbig.
Furthermore, you will now find a concertina, an autoharp, a Japanese koto, the aforementioned new mandolin with multiple play styles, a South-American charango, a bansuri, bass quena and an Indian flute plus additional play styles for the instruments launeddas, mancosedda, dvojacka and the Irish traverse flute.
With its selection of instruments, ETHNO WORLD 6 Instruments is the perfect library for film- and television productions that demand authentic sounds from specific regions of the world. Naturally, these instruments will work in music productions of diverse genres that embrace these specific sonic elements - from pop to ambient to dance.
CONTENT
ETHNO WORLD 6 Instruments contains all sounds of the previous versions, categorised in "Bowed Instruments", "Stringed Instruments", "Woodwind & Brass", "Key Instruments", "World Drums", "World Percussion" and "Gongs, Bells & Metals".
A good number of special instruments were additionally recorded for version 6. Among them is the new "Gamelan" category. The instruments were recorded in Munich's Stadtmuseum and contain two different gamelan orchestras from Bali and Java, available in slendro, pelog and international tunings. Here, you will find more than 25 instruments such as kempli, kendhang drums, cheng cheng, bells, kecer cymbals, kethuk and kempiang.
ETHNO WORLD 6 Instruments also unlocks an entire new region by offering a complete ensemble of alpine folk music including plucked instruments, brass as well as male and female yodelers. Find instruments like the Styrian harmonica, a nylon stringed concert guitar, zither, raffele, dulcimer, alpenhorn, flugelhorn, trumpet, trombone, tuba, folk-violin and two clarinets. And of course it includes an acoustic bass.
For historical contexts, such as historic dramas or fantasy movies, ETHNO WORLD 6 Instruments offers a large selection of medieval instruments, among them a hurdy gurdy, renaissance lute, fife, doucaine, shawm, pasalterium, pump organ and a shruti box. In a nutshell: every instrument for songs about fire and ice.
THE INTERFACE
ETHNO WORLD 6 Instruments uses the free Kontakt 5 Player by Native Instruments as its sample-engine and can of course be used with the full version of Kontakt 5, too. For the new version, the user-interface's graphic has been completely redesigned and optimized for ultra fast access. There are numerous editing possibilities as well as innovative functions. ETHNO WORLD 6 Instruments supports the Native Kontrol Standard (NKS), which allows tagging and interaction with the NI Komplete Kontrol keyboards and NI Maschine.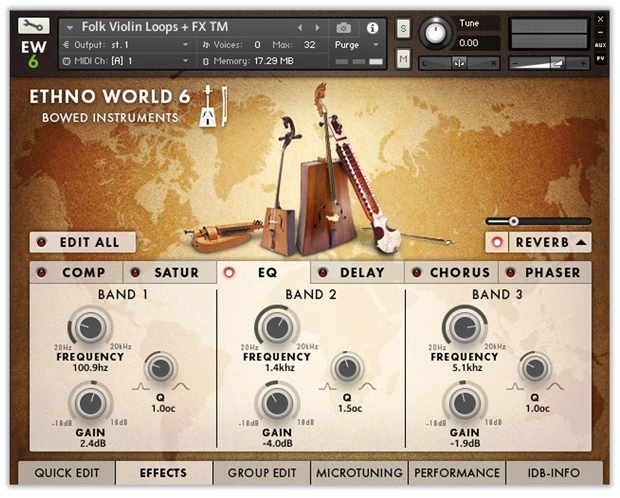 Further additions are a new waveform display, visualization of the sample-start-offset as well as a clearer use of the effects where, among other features, delay times are now displayed in tempo-related note values and milliseconds. The Timemachine (TM PRO) delivers significantly improved audio results with tempo adapted material, especially for polyphonic licks and loops.
And this is not only a benefit for the latest sounds of ETHNO WORLD 6 Instruments but also for all sounds of ETHNO WORLD 5 which were completely revised in this regard. At the same time, the number of patches has been reduced, leading to a clearer menu structure.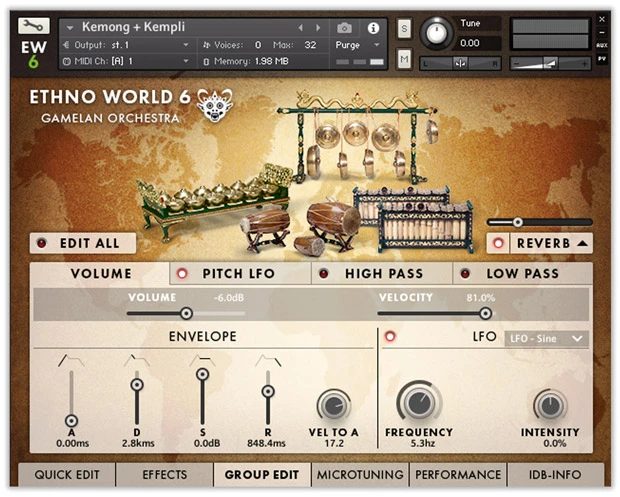 Thanks to the integrated convolution reverb, all instruments sound exceptionally realistic and natural. Solo instruments additionally offer a high-quality legato mode. Plus, the humanize mode will play each new note with a slightly changed timbre. The micro-tuning allows the use of multiple ethnical tunings and scales. By using top-quality filters, LFOs, tune, automation, harmonizer and further effects, all instruments and voices can be efficiently edited and manipulated if needed - allowing to create new sonic worlds equally suited for modern music genres and film productions.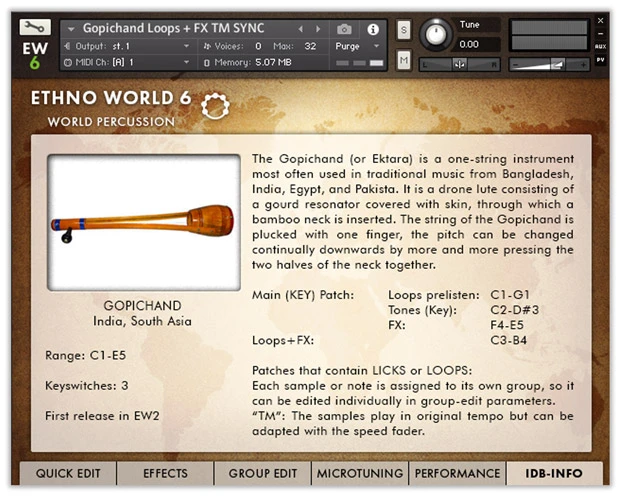 A unique feature of ETHNO WORLD 6 Instruments is the integrated IDB-INFO (Information Database), being directly available from every instrument. Via the menu entry "IDB-INFO", you can access photos of the instruments as well as many details about their original play techniques and tunings, origins and variations. You will also find notes on how to use key-switches, achieving realistic results with the corresponding instrument. 
Vocal Expansion
In addition to ETHNO WORLD 6 Instruments, the separate dedicated vocal-library ETHNO WORLD 6 Voices is available. This library offers perfectly matching extensive solo-voices, phrases and choirs from Cameroon, Guinea, China, Iran, Turkey, Bulgaria, Northern Africa, Spain and Ukraine. For version 6, the voices and choirs have been expanded by new contributions from Africa, Arabia, Jamaica and India.

Requires Kontakt Player 5.6.1
※ 이메일로 전자 배송되는 소프트웨어는 메일 발송후 교환 반품 불가합니다.
플러그인샵의 소프트웨어 제품들은 전자 배송 (electronic software distribution) 상품입니다.
실제 물건이 택배나 퀵으로 배송되는 것이 아니라, 온라인 전자배송으로 구입시 입력하신 이메일을 통하여 제품의 시리얼 넘버 or 다운로드 링크 형태로 전자 배송되는 상품입니다.
주문 및 결제를 완료하시면, 입력하신 이메일 주소로 시리얼 넘버 or 다운로드 링크가 발송됩니다.
네이버 페이 결제 와 무통장 입금은 실시간 전자배송이 실시간이 불가능합니다. 결제후 따로 이메일이나 전화 연락을 주시면 제품 시리얼 혹은 다운로드 링크를 보내드립니다.
전화문의 : 02-3444-7436 (내선 1번)
이메일 : cuoshop@sonicvalue.com
자동 실시간 전자 배송 방식이기 때문에 배송 여부와 관계 없이 주문 후 취소나 변경은 불가능합니다.
실시간 전자배송 소요시간 : 최대 2시간이내 (2시간 이후는 연락주세요)
실시간 외 일반 전자배송 : 결재후 1일 이내에 배송되며, 특별한 플러그인 제조사의 경우에는 제조사 방침에 따라 2~3일 혹은 1주일 정도 지연될 수도 있습니다.