E-MAIL DELIVERY
24 시간 실시간으로 이메일을 통해서 소프트웨어의 다운로드 링크와 라이센스 코드를 전자 배송 해드립니다.
TECHNICAL SUPPORT
소프트웨어에 대해 궁금하실 때는 언제든지 친절하게 상담해드립니다.
SOFRWARE RETURNS
소프트웨어의 전자 배송으로, 이미 라이센스 코드가 발급되고 나면, 회수가 불가능하여, 전자 배송 후 반품이나 환불이 일체 되지 않습니다.
※ 본 상품은 실시간 이메일 배송되는 제품으로 30 분이내에 받아보실 수 있습니다. 

There have never been computer-created, yet nuanced instruments like these!
CHH Pro Complete is the most complete virtual-instrument library of Brass & Woodwind instruments for Jazz, Pop, Big-Band, Funk production but also for spicing up your cinematic and orchestral tracks. With CHH Complete you get 54 Solo- and 32 Section-Instruments, divided into four volumes which contain different groups of instruments perfectly matching each other. With its latest Pro update, Chris Hein's library debuts phase-synchronised samples for perfect blends between velocities. This procedure optimises interdependent samples and allows silky smooth velocity crossfades from piano to forte. Use the instrument´s full dynamic capabilities to create a vivid performance.

Chris Hein Horns Pro:
C-Flute Instrument
The new C-Flute was deeply sampled in great detail and a variety of playing styles such as Non Vibrato, Vibrato, Singing and even Shakuhachi Style. This instrument adds a different colour to the palette.
All new Graphical User Interface
The all new user Interface makes tweaking and editing a breeze. Sculpt the sound of the instrument and define exactly how it reacts to your playing.
Phase synchronised samples for perfect blends between velocities
All Sustain Samples and some other articulations got phase-synced. This procedure optimises interdependent samples and allows silky smooth velocity crossfades from piano to forte. Use the instrument´s full dynamic capabilities to create a vivid performance.
Extremely customisable Articulation Presets including copy paste feature
The articulation presets are now even more customisable, using the latest features of the Kontakt engine - for example the time machine and the transient designer. Individually control speed, panorama, volume, transpose and many more parameters of each instrument's playing style.
New Key-Switch preset management
We re-invented the management of key-switch presets. Each setting of a preset can now easily be copied to any other preset. You can even save all presets of a patch, including your personal key-switch preferences, and import them into another one. Save time and organise key-switches the way you want them.
New flexibel Hot-Key management
Articulations can be unloaded to save memory
Improved Ram Management. All articulations and ram-demanding effects can be loaded or unloaded individually. Remove unused articulations and switch off ram-demanding effect settings to free up memory and keep the memory footprint as low as possible.
Speed Change for all articulations
The speed of all articulations can be adjusted individually. This is not only useful for the time-depending articulations like Crescendo, Runs or Falls. Also sustains, shake and trills benefit from the time adjustment, because it changes the attack and the general sound of the sample.
There are now five different velocity X-Fade Modes providing you with maximum flexibility to control the dynamic of the instrument. Play realistic Crescendi and Swells locked to the song tempo using the two new Auto X-Fade Modes.
Velocity Fade Filter
Transient Designer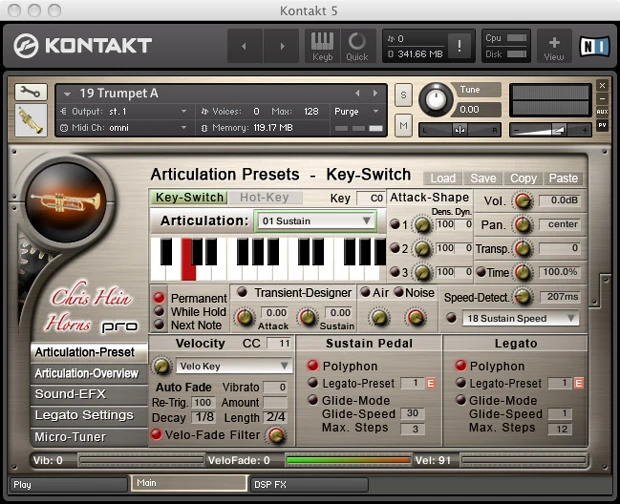 Additional Effects: Attack Shapes, Air, Noise, Release Effects
The new effects are perfect to dial in liveliness. Add up to three layers of different Attack Samples to give your sound more punch or dirt, or blend in sounds of playing-noises and air flowing through the instrument to bring it closer to the listener
16 new Convolution Impulses for Reverb
CHH Pro contains 16 additional Convolution Impulses of reverbs. Place your instruments on a scoring stage or play them in a small room.
Improved Key-Vibrato
Two independent, intelligent LFO-Vibrato types
Auto vibrato
Auto Vibrato uses musical values, based on the song tempo, to blend in natural modulation of tune and volume.
Assignable Pitch-Bend
Popular playing styles like falls or shakes are now assignable to the Pitch-Bend Wheel. Trigger these effects intuitively without having to remember key-switches.
iPad & iPhone real time remote controller
Based on Hexlers TouchOSC we programmed a real time controller for all features in CHH-Pro. Instead of fiddling with CC data in your DAW, you just record the automation data from your iPhone or iPad.
Due to highly intelligent programming the solo instruments can easily be combined to small or large sections via section mode. Several "out of the box" section instruments are also included. The intuitive user interface is mainly focussed on best playability. Various legato and glide-mode features allow very realistic note transitions, while outstanding new functions like key-vibrato, hotkeys and the revolutionary new key-switch concept are essential for live performance.
All instruments obey the same concept, so once you know one, you know them all. Each volume contains solo-instruments as well as section combinations. Every instrument was played by famous big-band musicians in separate sessions but to one another, which results in perfect harmony of the sections and allows maximum flexibility for the producer.
General Features
Chris Hein Horns is an outstanding brass instruments sample library.
aprox. 2.000 Samples per instrument
about 80.000 Samples (~44 GB Content)
18 different playing techniques
All playing techniques in one programm
Up to 8 Velocities per note
72 control-features in 11 edit-pages
6 DSP Efx
21 high class convolution reverbs
Key-Switch Presets, Hot-Keys, Key-Vibrato, Legato- and Glide-Mode, Growl-Control, and more.
built with Kontakt 5.0.1
Articulations - The large amount of up to 38 articulations is what makes "Chris Hein - Horns" so realistic. All articulations can be assigned over 18 keyswitch-keys, located on the lower notes of the keyboard. Access to every articulation is made possible via an intuitive combination of keyswitches and midi-controllers.
Key-switches - 'Keyswitching' is an elegant way of enabling the user to directly and immediately access different playing techniques from within a single patch. It uses pre-programmed MIDI notes to instantaneously switch between different articulations, meaning it is no longer necessary to reload each variant individually. The keyswitches themselves are only controller keys. They make no sound, but instead are used to switch the entire group of samples which the main instrument keys trigger.
Key-switch Presets - Usually key-switches just switch between different fixed articulations or other pre-programmed sound variations. In CHH Vol1 the keyswitches are used to switch between complex sets of presets with 21 adjustable parameters. There are 18 Key-Switch presets available. The KS-Presets are allocated to C0 - F1, in the lower area of your keyboard. You must press the keyswitch before playing actual notes. The switchover occurs instantly without any time lag.
Pressing a key between C0 and F1 on your keyboard has the same effect as turning the KS-Preset knob in the GUI. You can also assign the KS-Presets to any midi controller in the CC-Settings page. The selected articulation is displayed on the left side of the GUI. All parameters on the settings page, except Vib. Vol, Vib.Tune, Crescendo-Speed and Glide-Speed are adjustable parameters which are stored in the KS-Presets. If you make changes to any of these parameters, they are automatically stored in the KS-Preset. To permanently save the KS-Presets, simply save the whole instrument.
Instrument Content
Solo-Instruments (Vol 1)
4 meticulously sampled solo instruments with more than 4.000 samples and up to 38 articulations in 20 different velocity zones.
1 x alto sax solo, 1 x tenor sax solo, 1 x trumpet solo, 1 x trombone solo, 1 x trumpet section, 1x C flute
Brass & Woodwind Sections (Vol 2)
This volume perfectly complements the solo brass instruments. You can now realise almost every form of orchestration containing brasses.
3 x alt sax, 2 x tenor sax, 2 x baritone sax, 4 x trombone, 2 x bass-trombone, 3 x sax section, 3 x trumpet section, 3 x trombone section
Muted Brass (Vol 3)
A unique user interface with 72 control features on 11 different edit-pages. Offering all sorts of sound and playability shaping possibilities.
8 x muted trumpet, 8 x muted trombone, 7 x trumpet section, 5 x trombone section
More Brass & Woodwinds (Vol 4)
Eb-clarinet, Bb-clarinet, bass-clarinet, contrabass-clarinet, 2 x soprano sax, bass-sax, contrabass-sax, 4 x flugelhorn, 2 x F-buba, cimbasso, alphorn, 16 solo-instruments & 10 section-combinations
※ 이메일로 전자 배송되는 소프트웨어는 메일 발송후 교환 반품 불가합니다.
플러그인샵의 소프트웨어 제품들은 전자 배송 (electronic software distribution) 상품입니다.
실제 물건이 택배나 퀵으로 배송되는 것이 아니라, 온라인 전자배송으로 구입시 입력하신 이메일을 통하여 제품의 시리얼 넘버 or 다운로드 링크 형태로 전자 배송되는 상품입니다.
주문 및 결제를 완료하시면, 입력하신 이메일 주소로 시리얼 넘버 or 다운로드 링크가 발송됩니다.
네이버 페이 결제 와 무통장 입금은 실시간 전자배송이 실시간이 불가능합니다. 결제후 따로 이메일이나 전화 연락을 주시면 제품 시리얼 혹은 다운로드 링크를 보내드립니다.
전화문의 : 02-3444-7436 (내선 1번)
이메일 : cuoshop@sonicvalue.com
자동 실시간 전자 배송 방식이기 때문에 배송 여부와 관계 없이 주문 후 취소나 변경은 불가능합니다.
실시간 전자배송 소요시간 : 최대 2시간이내 (2시간 이후는 연락주세요)
실시간 외 일반 전자배송 : 결재후 1일 이내에 배송되며, 특별한 플러그인 제조사의 경우에는 제조사 방침에 따라 2~3일 혹은 1주일 정도 지연될 수도 있습니다.